---
Principal's Message 
---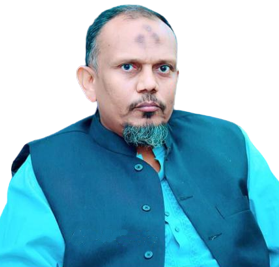 It is my honor to serve Thar Institute of Engineering, Sciences and Technology (TIEST) as its 2nd Principal. I am grateful to Almighty Allah selected me for this responsibility. I am also thankful to the management of NED University trusted me for this wonderful job. TIEST is relatively a new institute and therefore it offers number of opportunities in establishing administration systems, implementing world proven outcome-based education system and initiating research using modern research tools. I have accepted these challenges and praying for my success.
Air-conditioned classrooms equipped with multi-media, World class latest laboratory equipment, Libraries, Book Bank, Digital library, remote access to the Abul kalam library of NED University, High Tech computer laboratories equipped with latest software, 24 hours Internet, Wi-Fi facility, transport and hostel facilities are the silent features of TIEST. HEC donated world class smart classroom is one of the unique facilities of TIEST. Worldwide live lectures, seminars, conferences and meetings can be conducted using this state-of-the-art facility.
In order to maintain the quality of education, qualified faculty is hired as per prescribed standard of Higher Education Commission Pakistan. TIEST is a constituent college of NED University of Engineering and Technology, Karachi, therefore all of the rules and regulations of NED University are followed here at TIEST in administration, teaching, and examinations systems. Regular trainings, Check and balance of Quality Enhancement Cell of NED University is also very helpful maintaining the standard of TIEST similar to the one followed at NED University.
TIEST is a gift of hundred years old, world recognized NED University to the people of Tharparkar and near areas. May Allah prosper this institute and give TIEST its own identity and recognition. Ameen.

Prof. Dr. Nasir Uddin Shaikh  
Principal                   
email: principaltiest@neduet.edu.pk